MySize Expands E-Commerce Sizing Empire to Include Footwear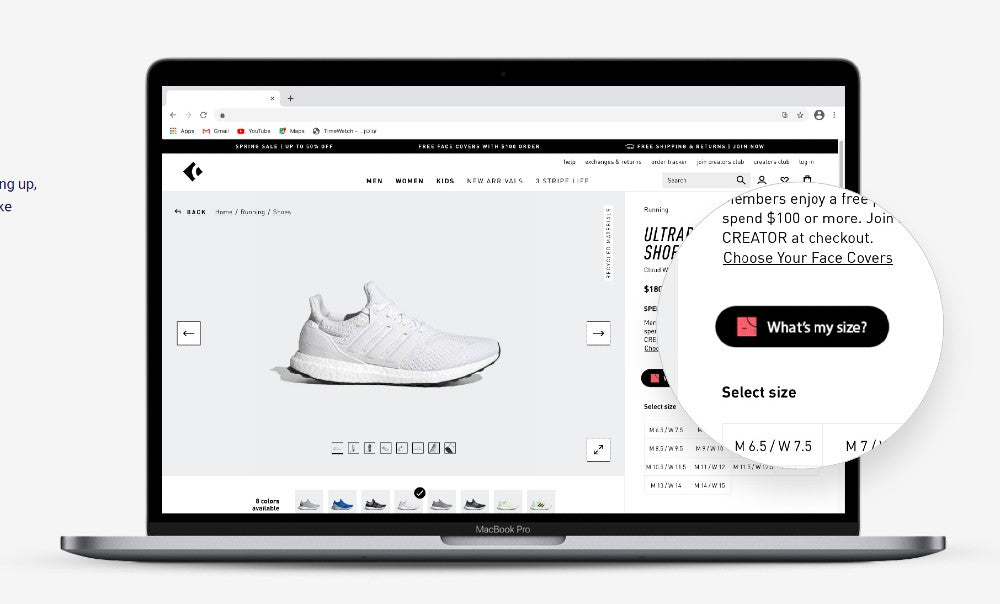 With consumers continuing to shop online at heightened levels, accurate sizing has become an increasingly crucial consideration for any business looking to stem costly returns.
The issue of inconsistent sizing has always been particularly pertinent within footwear. Late last year, Volumental released the results of an extensive study it conducted on shoe sizes. Looking at 78,000 foot scans and purchases of women's size 9 running shoes, it determined that only 62 percent of shoe styles met the parameters of a true size 9.

MySize, a developer of smartphone measurement solutions, officially debuted its answer to this problem last week. First announced in December, the "hyper-accurate" shoe sizing solution is built to seamlessly integrate with a retailer's e-commerce site, allowing the consumer to virtually obtain fits without needing to download an app.
By pairing the footwear retailer's product table, the shoe's global trade item number (GTIN) and description and MySize's AI-driven and machine-learning algorithms, the service presents online shoppers "with a highly accurate size recommendation," the company claimed. The footwear measurement technology is "plug and play" with "leading" e-commerce platforms, including Shopify, WooCommerce, Lightspeed and Magento, it added.

MySize, which traditionally has focused largely on apparel, claims its service directly reduces returns and increases average order value. During a three-month period last spring, it said, one of its partners, Turkey-based apparel brand Penti, saw returns drop by approximately 50 percent for customers using its MySizeID service. Apparel sales among these shoppers stood three times higher than those customers who did not use MySizeID for size recommendations, it found.

"When customers can order the right size without needing to jump through hoops or rely on guesswork, both the retailer and the consumer win," Ronen Luzon, CEO and Founder of MySize, said in a statement. "By bringing our highly accurate sizing tech directly to retailers' sites, we're empowering larger numbers of customers to obtain the right fit for them, and increasing accessibility to those who may not have wanted to take the extra step of downloading the app."