$25,000 Container Rates Are Supply Chain's 'New Normal': 'Contracts Are Not Being Honored'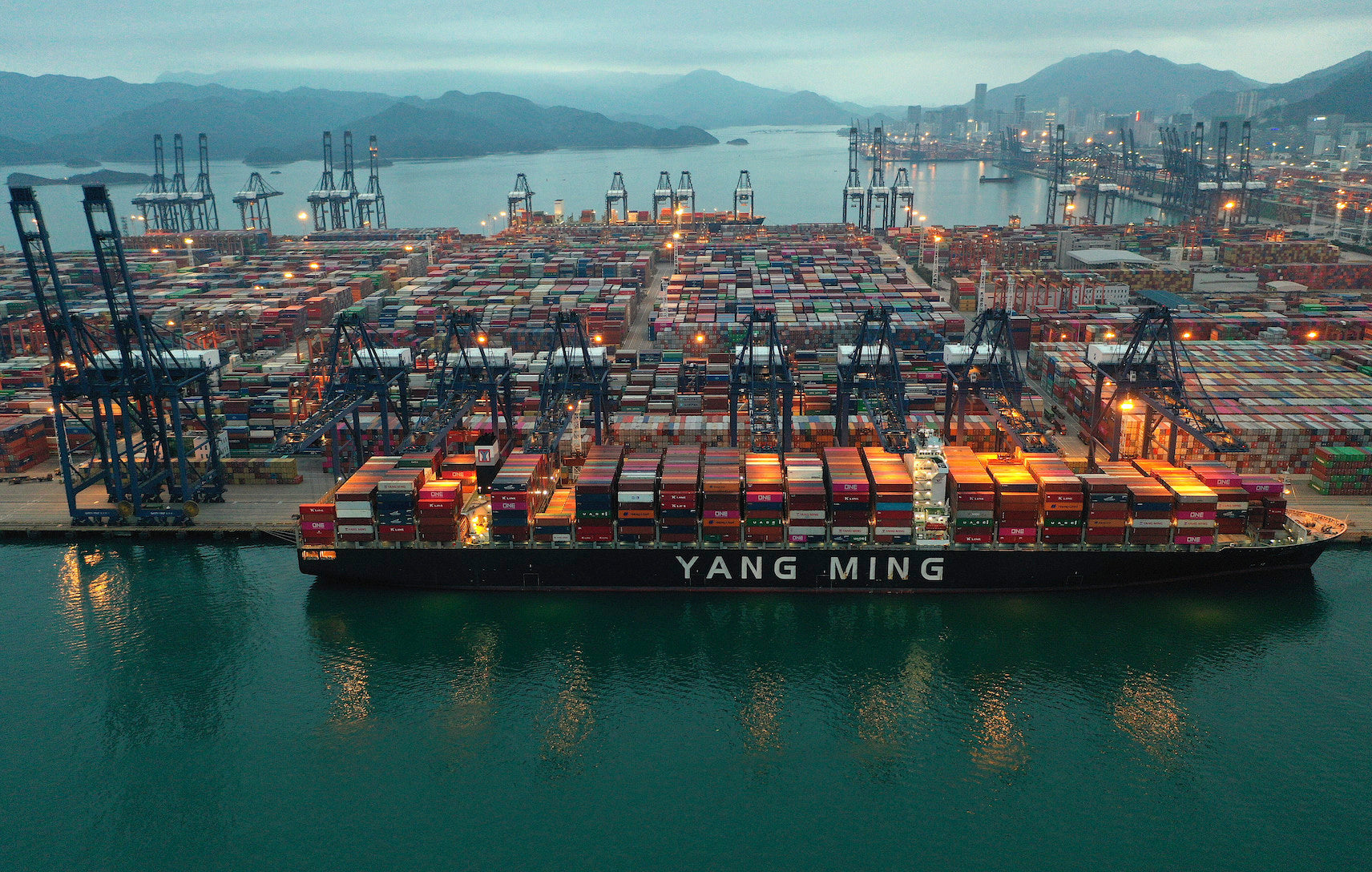 Those looking for uplifting news regarding the state of the global supply chain will likely have to keep on waiting. One investment bank with its ear to the ground doesn't see the current supply chain woes, or the pricier costs that come with them, letting up for quite some time.
A UBS report published Monday indicates that elevated supply constraints impacting the global ocean freight system are driving bottlenecks that "probably won't be alleviated soon." What's more, the increasing costs for shipping containers likely won't see much of a correction until 12 months from now at minimum.
Analysts that cover U.S. hardlines retail for the investment bank said the company recently hosted a call with two experts in the shipping industry, who cited three major culprits to the bottlenecks: port disruptions, labor shortages and a lack of available warehouse space to store cargo.

UBS says that even if these three issues are solved, the tightness in the market will likely remain at higher levels than usual due to backlogs from demand outpacing supply for a prolonged period.

The situation has gotten so dire that the National Retail Federation (NRF) requested a meeting with President Joe Biden and other administration leaders to discuss the ongoing challenges leading to the congestion and rising freight rates. Both the American Apparel & Footwear Association (AAFA) and the Port of Los Angeles have urged the administration to intervene.

The peak shipping season of August and September is expected to throw another wrench into the equation as retailers attempt to stock up again ahead of holiday 2021, said UBS, which did not respond to a request for comment. Even without major supply chain constraints, supply is typically lower during the peak season and container capacity becomes scarce, leading to increased shipping costs. Now, with the compounding of these issues, heightened shipping costs will undoubtedly be a bigger problem for retailers, at least in the near term.
The experts said shipping container rates have continued to climb amid limited supply, UBS said in the note. Specifically, one expert cited that from August 2020 up until now, containers going to the West Coast have cost approximately $8,000 to $9,000 per unit, with the East Coast experiencing rates of approximately $12,000. Further, one expert noted spot prices have moved as high as $20,000 to $25,000 in some instances.

This is a drastic change from two years ago, in June 2019, when West Coast containers were commanding rates of roughly $1,000, with the East Coast units averaging $2,200, UBS said.

Other markets have seen massive increases as well. According to Drewry's World Container Index data released on Thursday, the rate for a standard 40-foot container shipped from Shanghai to Rotterdam, Netherlands was up 534 percent year over year, reaching $11,196. This was the highest rate among the eight major East-West trade routes examined by Drewry (freight forwarder Zencargo reported on June 9 that transporting the same container on the same route cost $10,522). The Drewry composite, which measures all eight shipping rates, was up 306 percent year-over-year to $6,957.
French, Japanese freighters slap surcharges on shipments to China
Making matters worse, container transportation companies out of Japan (Ocean Network Express, or ONE) and France (CMA CGM), have added surcharges on sea freight shipments bound for China's Port of Yantian due to the congestion and container shortages. To cover the costs of re-routing shipments headed for Yantian, CMA CGM is implementing a $1,250 per container surcharge, while ONE added a $1,000 fee.

CMA CGM implemented the surcharges on June 11, but select nations have until July 21 before they get hit with the charges, including the U.S. and its overseas territories, Brazil, Argentina, Colombia, Ecuador, Panama, Venezuela, Uruguay and Paraguay.

Both ONE and Maersk are omitting calls at Yantian terminals in an effort to maintain schedules, amid congestion and delays in Europe, the U.S. and Asia. Maersk reported that the eastern area of the terminal at Yantian, which handles mainline vessels, is operating at 45 percent of its normal productivity.

However, despite ongoing Covid-19 restrictions at the Port of Yantian, Everstream Analytics reports that operations further normalized, with yard density and vessel waiting times decreasing "significantly" in recent days as of Tuesday. The port operator expects normal operations to resume from the end of June.

Perhaps the biggest frustration regarding the excessive costs is the length of time it will take to have any semblance of normalcy. The experts UBS cited also believe that rates will not see much of a correction until 12-18 months from now. Even when the supply/demand dynamics level out, there will likely be an elevated "new normal" for container prices.

"Further, in many cases, contracts are not being honored. This has caused some importers to look domestically for products," the note said.
Major railroads feel heat from congestion
Constraints throughout the chain are having a negative impact on some of the country's biggest railroad systems, particularly BNSF Railway and Union Pacific Corp. (UNP), according to the UBS discussion.

"It appears that both BNSF and UNP are facing a slower pace of containers leaving their terminals in the Chicago area (and also Memphis for BNSF) and the build-up/lack of space is causing both Western railroads to meter the flow of intermodal trains and containers going from Southern California into the Midwest," UBS said in the note. "While drayage capacity is likely a constraint it appears that warehouse space constraints in Chicago and Memphis may also be an issue."

However, the rising ocean freight rates are likely to drive sequential quarter-over-quarter growth in ocean-related revenue for freight forwarders in the second quarter.

"Commentary from the experts on our call lead us to believe the considerable tightness in ocean container shipping markets and disruption at ports is likely to support strong ocean container volume, gross revenue and net revenue performance from freight forwarders in the second quarter and this support is likely to persist into 2022," the note said.
U.S. still encounters non-essential land, ferry restrictions
In its June 22 weekly summary of supply chain impacts still ongoing from the Covid-19 pandemic, Everstream Analytics noted that the U.S. extended restrictions for non-essential travel at land and ferry crossings with Canada and Mexico through July 21 to reduce the spread of the coronavirus. The border posts have been closed since March 2020 and restrictions have been extended on a monthly basis since.

And despite the U.S.'s higher vaccination rate and faster recovery, congestion across global markets still persists. Inbound and outbound flights via China's Shenzhen Bao'an International Airport remain canceled after authorities imposed restrictions due to the discovery of a case of the Delta coronavirus variant. Airport congestion is likely to occur as a result, Everstream said.

Indonesia, which has the fourth-largest population in the world, tightened mobility restrictions in "red zones," including Jakarta, for two weeks from June 22 due to an increase in Covid-19 cases. Authorities in South Africa tightened measures nationwide from June 15 and moved the country from "level two" to "level three" on its five-tier virus transmission risk scale.

On a positive note, Japan lifted its Covid-19 state of emergency travel restrictions in nine out of 10 prefectures on June 20, including Tokyo. Okinawa remains the only district with the restrictions in place, which will be enforced until July 11.
By Glenn Taylor